DUSTHUNTER SP30
Smart measurement. Cost reduction.
The DUSTHUNTER SP30 is an instrument for the reliable measurement of dust concentrations from extremely low to very high. The measurement is based on forward light scattering and does not depend on the gas velocity and particle charge.
Automatic control of zero and base points ensures high accuracy.
The DUSTHUNTER SP30, thanks to its compact design, is available both as a stand-alone measuring instrument and (optionally) with integrated purge air unit and MCU control unit for extended functionality. Mounting is done on one side of the channel, with several mounting options and probe lengths to choose from. The measuring device can be used for various applications, such as process optimization or intelligent diagnostics and filter monitoring.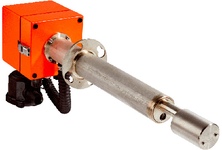 See how it works automatic system
monitoring industrial elections
The environmental monitoring system, designed for industrial enterprises and environmental laboratories, is designed and manufactured according to the requirements of each Customer
At the same time, we guarantee full compliance with the requirements:

Environmental Code of the Republic of Kazakhstan dated January 2, 2021 № 400-VI

Federal Law № 39-FZ of March 9, 2021 "On Amendments to the Federal Law "On Environmental Protection" of the Russian Federation"