Distribution cabinets series PR
Distribution cabinets series PR
Purpose and scope
The cabinets are designed to distribute electrical energy and protect electrical installations during overloads and short circuit currents, for infrequent (up to 6 per day) operational switching on and off of electrical circuits and starts of asynchronous motors in networks with a rated voltage of up to 660 V AC, frequency 50 and 60 Hz - PR 8503 and voltage up to 220 V DC - PR 8703. Cabinets can be used in all types of electrical networks in terms of grounding (according to GOST R 50571.3) with various options for the location of the zero working and zero protective conductors.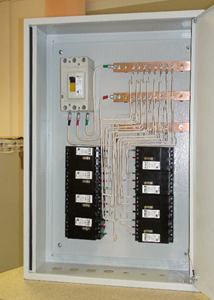 See how it works automatic system
monitoring industrial elections
The environmental monitoring system, designed for industrial enterprises and environmental laboratories, is designed and manufactured according to the requirements of each Customer
At the same time, we guarantee full compliance with the requirements:

Environmental Code of the Republic of Kazakhstan dated January 2, 2021 № 400-VI

Federal Law № 39-FZ of March 9, 2021 "On Amendments to the Federal Law "On Environmental Protection" of the Russian Federation"