Atypical low-voltage devices (NKU)
Atypical low-voltage devices (NKU)
Promanalit LLP will manufacture panels, consoles, panels according to the technical documentation of the customer, as well as according to the documentation developed by the technical department of our company, according to individual orders. Our experts will work out the circuit diagrams for connecting electrical equipment, help in choosing and ordering equipment.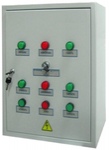 See how it works automatic system
monitoring industrial elections
The environmental monitoring system, designed for industrial enterprises and environmental laboratories, is designed and manufactured according to the requirements of each Customer
At the same time, we guarantee full compliance with the requirements:

Environmental Code of the Republic of Kazakhstan dated January 2, 2021 № 400-VI

Federal Law № 39-FZ of March 9, 2021 "On Amendments to the Federal Law "On Environmental Protection" of the Russian Federation"