Gas analyzers CALOMAT 6 and CALOMAT 62
Gas analyzers CALOMAT 6 and CALOMAT 62
CALOMAT 6 is a system of devices for monitoring generators.
To monitor the purity of the cooling gas for hydrogen-cooled turbogenerators, Siemens offers a specially designed and ready-to-use instrumentation system.
To monitor the generator, two independent measurement systems are required. This requirement is met by using two CALOMAT 6 units, separated from gas extraction to gas outlet, and mounted in one cabinet body. The system sends analog or digital measurement signals to a higher-level control system for further processing. The system can also be programmed to provide digital limit signals.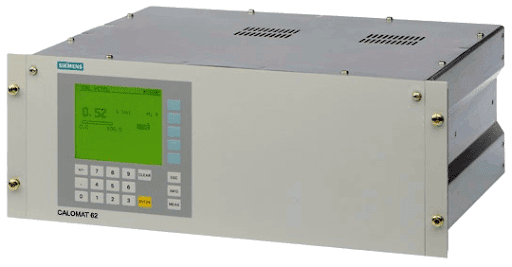 See how it works automatic system
monitoring industrial elections
The environmental monitoring system, designed for industrial enterprises and environmental laboratories, is designed and manufactured according to the requirements of each Customer
At the same time, we guarantee full compliance with the requirements:

Environmental Code of the Republic of Kazakhstan dated January 2, 2021 № 400-VI

Federal Law № 39-FZ of March 9, 2021 "On Amendments to the Federal Law "On Environmental Protection" of the Russian Federation"