SOLER FLOW 150
SOLER FLOW 150 gas flowmeters are designed for automatic continuous measurement of the flow rate and determination of the volumetric flow rate of various gases and their mixtures in pipelines and flues, automatic control systems, regulation and control of technological processes in various industries.
Flowmeters are a stationary continuous measuring device installed on a pipeline, flue and chimney.
The SOLER FLOW 150 flowmeters are based on the Bernoulli equation for continuous gas flows. The pressure difference arising in the receiver of full and static pressure (probe), which is introduced into the pipeline, is proportional to the square of the gas flow velocity.
To determine the normal volume flow and volume of gas, a recalculation of the gas density is used by entering conditionally constant values of the gas composition into the electronic unit.
The electronic unit has a built-in LCD touch screen and a keyboard for setting, programming, and indicating the current mass (volume) flow rate and mass (volume) of gas. Processing and display of measuring information on the display is carried out using a microprocessor device for collecting and processing flow meter information, based on measuring information received from differential pressure, absolute pressure and temperature converters and gas density under standard conditions.
The scope of application of flowmeters is automatic control systems, regulation and control of technological processes (at petrochemical, chemical, oil refining, nuclear and other industries).
The flow meter provides:
- formation of a unified current signal in the range of 4-20 mA,
proportional to the measured flow rate;
- generation of a digital signal in the RS-485 interface standard, Modbus
RTU protocol and output of measurement results;
- display of measurement results on the LCD display;
From the penetration of external solid objects and water, the flow meter corresponds
to a degree of protection not lower than IP65 according to GOST 14254-2015.
Flowmeters are designed to measure the volume flow of gas in automatic control systems, regulation and control of technological processes in various industries, as well as in technological and commercial accounting systems, processes in accordance with the requirements of GOST 8.361 "Flow of liquid and gas. The method of performing speed measurements at one point of the pipe section" (for devices with one control point) and GOST R 8.618-2014 GSI. State verification scheme for measuring instruments of volumetric and mass gas flow rates.
Characteristic name

Unit rev.

Characteristic value

Measured environment

gas

Type of flow sensor

submersible

Measuring range of mass (volume) flow

kg/h (m3/h)

depending on the density of the medium, the diameter of the pipeline, and the flow rate.

Characteristics of the measured medium:

- Measurement range of gas flow rate under operating conditions

- Measuring range of gas flow temperature

- Measurement range of the absolute pressure of the gas flow

m/s,

°C

kPa

from 0.1 to 30

from minus 40 to 600*

from 90 to 130 180

Permissible ambient temperature range

°С

from minus 40 to 60

Relative error limits for flow rates from 2.5 to 30

m/s

%

± 2

Limits of permissible absolute error when measuring the temperature of the gas flow

°С

± 0,5

Limits of permissible error reduced to the upper limit of measurements of absolute pressure

%

± 0,25

AC power supply parameters:

- voltage,

- frequency,

Hz

V

24 V

50 ± 1

Power consumption, no more

vat

100

Output signals, standard version:

current signal,

digital signal

мА

from 4 to 20

RS-485, ModbusRTU

Response time

s

2

Weight, no more

Electronic block, no more

Primary flow converter (probe), kg

kg

1,0

10,0*

Dimensions (Height×Width×Length),

Primary flow converter (probe), (length, diameter), mm

mm

110х160х160*

2000х50*

Average service life

years

10

MTBF

hours

100 000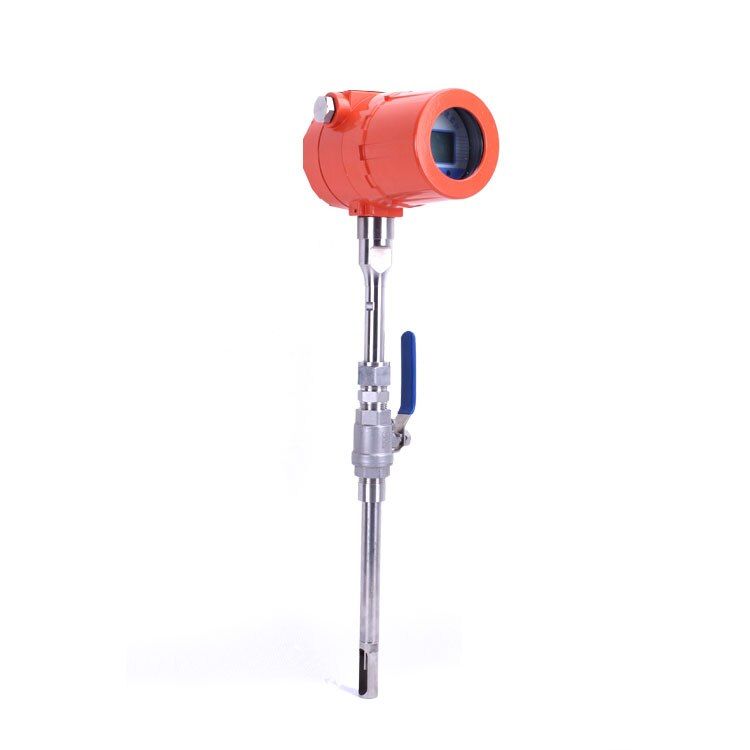 See how it works automatic system
monitoring industrial elections
The environmental monitoring system, designed for industrial enterprises and environmental laboratories, is designed and manufactured according to the requirements of each Customer
At the same time, we guarantee full compliance with the requirements:

Environmental Code of the Republic of Kazakhstan dated January 2, 2021 № 400-VI

Federal Law № 39-FZ of March 9, 2021 "On Amendments to the Federal Law "On Environmental Protection" of the Russian Federation"