SOLER PEK-1
SOLER PEK-1 is designed for continuous automatic monitoring of the content of pollutants, suspended particles (dust), meteorological parameters (temperature, relative humidity, atmospheric pressure, wind speed and direction) and radiation gamma background in the atmospheric air. Each post includes: a gas analytical and meteorological complex, an information collection and processing system, a data transmission system and a life support complex.

SOLER PEK-1 was developed in full compliance with the Environmental Code of the Republic of Kazakhstan, regulatory documents and GOST 17.2.6.02-85 (Nature protection. Atmosphere. Automatic gas analyzers for monitoring atmospheric pollution.)
Pavilion with life support system;
Analytical cabinet;
Sampling probe for gas analyzers;
Sample transportation line;
Meteorological mast with weather parameters converter;
Pavilion power supply system;
Electronics block;
Operator workstation.
automatic measurement of controlled parameters and control of the measuring process;
storage in memory of measurement results for the required period of work;
automatic transmission of measurement results via communication channels;
remote monitoring of the technical condition of equipment, fire danger and station opening;
autonomy of at least 30 days.
The meteorological complex (meteomast) is made on the basis of the best examples of Russian or foreign meteorological equipment.

The meteorological complex measures the following indicators:
wind speed;
Direction of the wind;
Atmosphere pressure;
temperature;
relative humidity;
the amount of precipitation.
ambient temperature: from minus 50 °С to + 50 °С;
relative humidity: up to 100% over the entire temperature range;
pressure: from 680 to 800 mm. Hg;
wind speed: up to 30 m/s;
exposure to rain and snow.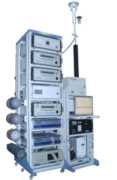 See how it works automatic system
monitoring industrial elections
The environmental monitoring system, designed for industrial enterprises and environmental laboratories, is designed and manufactured according to the requirements of each Customer
At the same time, we guarantee full compliance with the requirements:

Environmental Code of the Republic of Kazakhstan dated January 2, 2021 № 400-VI

Federal Law № 39-FZ of March 9, 2021 "On Amendments to the Federal Law "On Environmental Protection" of the Russian Federation"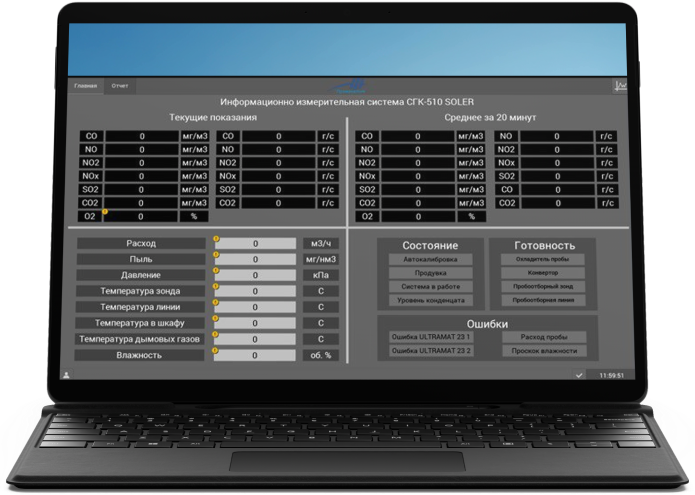 The gas analysis complex is manufactured using gas analyzers of foreign and Russian production.

The gas analytical complex allows to measure with high accuracy the content of substances in the atmospheric air:
nitrogen oxides NO, NO2, NOx;
NH3 ammonia;
hydrocarbons SCH, NCH, CH4;
carbon monoxide CO;
sulfur dioxide SO2;
hydrogen sulfide H2S;
Ozone O3;
carbon dioxide CO2;
suspended particles (dust).
Depending on the specific tasks of the Customer, gas analysis equipment can be supplied to measure a wide range of pollutants (including markers for certain emission sources).
Data collection and processing complex
Designed to transfer measurement data to a remote operator. Data transmission can be carried out over a radio channel, over a telephone line, over cellular communications, etc.
Since 2018, SOLER PEC-1 posts provide for the transfer of data to the Ministry of Energy of the Republic of Kazakhstan in accordance with the memorandum concluded with users of natural resources.
The complex for collecting and processing data is implemented on the basis of an industrial computer placed in a rack with a gas analytical complex. KSOD provides:
collection of information from measuring equipment;
conversion into physical quantities of the output signals of the measuring equipment;
processing (averaging) and storing data in a non-volatile storage device;
provision of information at the user's request to an external remote computer via wireless communication channels;
viewing the results of data collection for the selected time interval in the form of reports;
the possibility of prompt notification of exceeding the MPC for each user;
data transfer via GPRS/EDGE/3G to the data consolidation and storage server.